Alina Szapocznikow's Souvenir: on the history of the object and the issues of conservation and restoration of a polyester sculpture
Conservation and restoration issues of Maria Stangret-Kantor's painting Continental Landscape #3 from the series Continental Landscapes, from the collection of the Foksal Gallery in Warsaw 
Conservation and restoration issues of installation Foksal Gallery Documentation, from the collection of the Foksal Gallery in Warsaw
In my degree project I wanted to address issues associated with conservation and restoration of contemporary art objects. It was important for me to tackle non-traditional media and materials increasingly used by contemporary artists. Under my practical project I made conservation-restoration of three completely different objects. They were Alina Szapocznikow's sculpture Souvenir and two objects from the collection of the Foksal Gallery in Warsaw: Continental Landscape #3 by Maria Stangret and installation Foksal Gallery Documentation, created by prominent artists and critics collaborating with the gallery.
All three objects in the process of identification, research and tests implied for a conservator a range of issues typical of non-standard, interdisciplinary works of contemporary art. They also pertained issues related to the complex care of such works of art. These works were a mystery and a great example of the mosaic of dilemmas that any conservator-keeper of contemporary art collections could encounter, and a perfect reference to the theoretical part of my degree piece, in which I dealt with issues related to modern materials used by visual and audiovisual artists at the turn of the 1960s and 70s in Poland.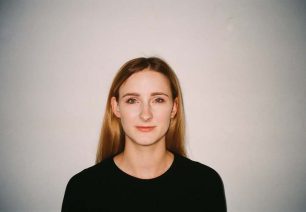 (born 1991)
Studies at the Faculty of Conservation and Restoration of Works of Art at the Academy of Fine Arts in Warsaw (2011–2017), specialisation in conservation and restoration of painting and wooden polychrome sculpture; she also attended elective courses conducted by Inter-faculty Studios – "Novum" for Protection and Conservation of Modern and Contemporary Art and Conservation and Restoration of Ethnographic and Archaeological Monuments. Rector's scholarship for the best students of the Academy (2013/14, 2014/15, 2015/16). She participated in conservation activities and projects conducted in Poland and abroad. Currently a conservator at the Wrocław Contemporary Museum.