Vicious Circle 
The inspiration for my degree piece was Jacek Malczewski's painting Vicious circle. I wanted to present it in a very personal way. In the sculpture I consciously applied an abstract element, which is the effect of distancing to the appearance of the real character.
The surrounding figures are flouncing at a crazy pace. I used the term "crazy pace" to draw attention to the issue of time, its impact on us, and our constant misadaptation. Figures stretching between the poles of dynamics and motion are strong and compact.
The aim of the work is to reflect on the situation of the modern man – their pursuit of time, looping in the abstract body. Today's man is subjected to stronger and stronger manipulation, bombarded with information, has more and more responsibilities, turns of the wheel, so my sculpture is an expression of human fate. Every day the same actions, movements are repeated, as in my piece. I tried to show art that became a way of satisfying the human need for expression. Which would express the need to show the true "I", not only to one's self but also to the world. The need to face this world. To free up emotions.
The vicious circle means that after many efforts and activities we are back at the starting point. We often think that we are in a hopeless predicament. It is important to bring out the resistance that will stop the process and learn how to deal with stress. And then everything will return to normal.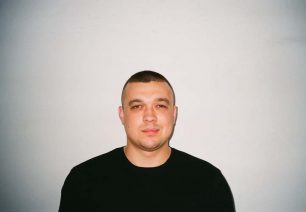 (born 1990)
Studies: Faculty of Sculpture of the Academy of Fine Arts in Warsaw (first-cycle 2012–2015, second-cycle 2015–2017). Scholarship for the best students of the Faculty of Sculpture of the Academy in Warsaw (2014/15, 2015/16). Participant of International Cast Workshop in Gdańsk (2012, 2016). Group exhibitions: 1000°C in sculpture, Hol Gallery, Łódź (2016), Genetic code, Botanical Garden of Warsaw University, Warsaw (2016), Miami, USA at Art Boca Raton, Boca Rato (USA, 2017). Winner of 2017 Gold Chisel Award.