The lamps are different, but the light is the same
My painting medium is felt pen, thanks to it I can convey the image-feelings that I see and experience, and which are untranslatable using the verbal method. During drawing I enter the unfamiliar area of myself; I never plan the final effect, I let the drawing develop intuitively. This is my method of self-examination.
By creating, I try to go beyond the learned thought patterns and what I already know. I believe that underneath the layers of our everyday personalities, in some space of silence, we are all the same, and painting is a jump into such a space that allows me to see and experience it. In creative moments the flow of impressions flowing through me generates physical and spiritual pleasure, which I exude through spontaneous selection of colours, to the smallest possible detail. I can charge the image with a lot of visual information and feelings, which after meeting with the viewer's eye stimulate their imagination or inner life, from which, if the recipient agrees in the loud silence of their conscience, their personal ineffable truth may emerge.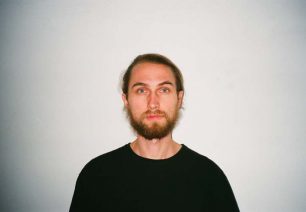 (born 1987)
Studies: media art at École des beaux-arts de Bordeaux (first-cycle, 2007–2010) and at the Academy of Fine Arts in Warsaw (second-cycle, 2014–2017). Field of artistic activity: painting. Solo exhibition: Beyond words, the seat of the PKO SA Bank in Warsaw (2016).